Hi there!
We are thrilled to let you know that the Milk Calendar 2018 is finally here!
You can order your copy here >>>
aurumlight.com/calendar2018
After four years from the release of the original Milky Pinups that were followed by the SplashHeroes, The Fallen Angels and this year Black Calendar we have decided to come back to our origins and bring you the fun stuff again.
The AurumLight Milk Calendar – MILKY PINUPS 2018 "The SplashScreen" – came to life during an intense and really energetic four shooting days.
Seven models, three makeup & hair artists and 15 people from AurumLight team made this project happen, bringing you healthy and fresh dose of every-year milky magic!
That is our fifth available-for-order calendar and after the Fallen Angels and Black – which were quite monochromatic – we decided to throw more colour and fun in the mix.
Adding the last ingredient – the movie references – and we've got a great recipe for this year's series!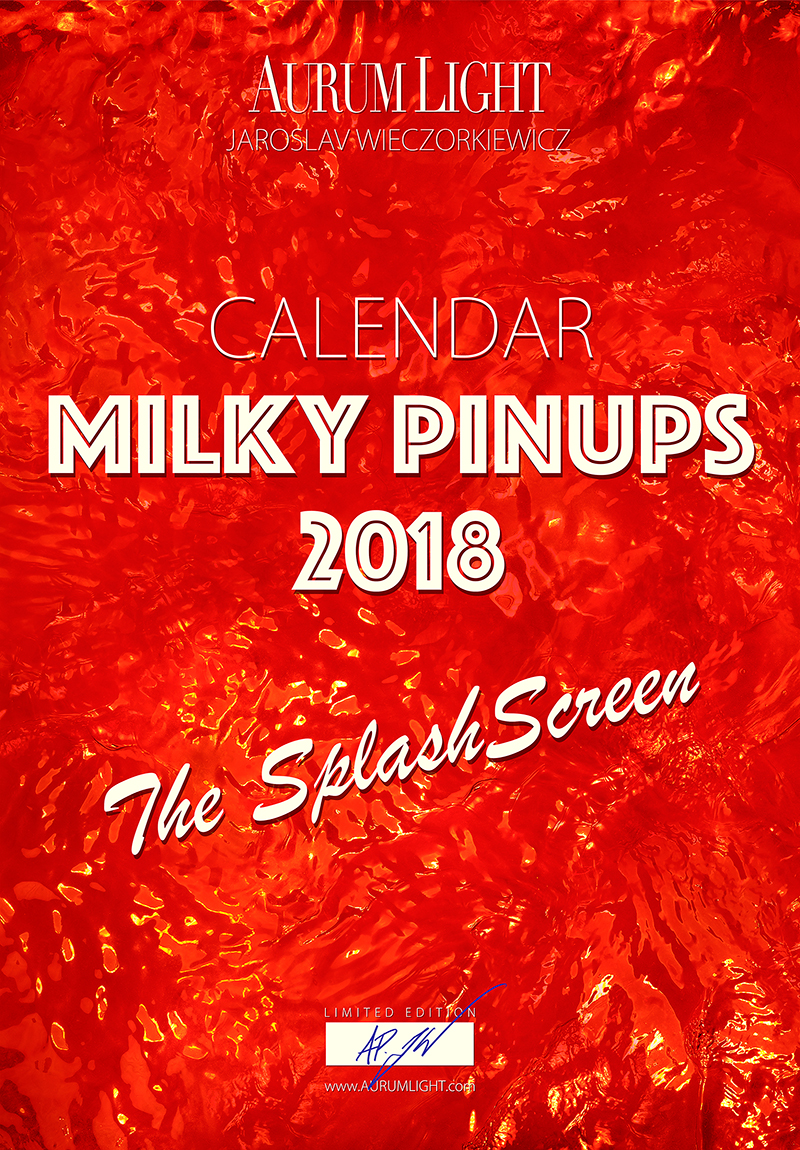 .
As an avid cinemagoer I had more titles in my head than I could fit in the 12 page calendar…
The selection was really hard, but finally we locked down to the ones you can see below.
Some of the titles or characters are really popular and therefore quite obvious but others have just a hint of the title. This makes them more difficult to decipher. If you don't want to guess you can scroll down and check the reference board…

Miss January – Monika Syntycz

Miss November – Zuzanna Chyba

Miss March – Klaudia Tolloczko

Miss April – Monika Syntycz

Miss May – Dora Marble

Miss February – Anisa Shaken

Miss June – Paulina Guzinska

Miss July – Mariia Markova

Miss September – Mariia Markova

Miss October – Paulina Guzinska

Miss August – Paulina Guzinska

Miss December – Klaudia Tolloczko
.
As usual all the costumes were made out of milk – in many cases colourised by the food colourisers…
We threw on our models a lot of milk and they were amazing during this demanding process!
.

.

.

.

.
The personal projects such as this one are the best situations when trying new things. Keeping that in mind we've decided to build a small pool with milk and put a model in the middle.
Just when the plan was in place we were invited by our friends from IkonStudio to Oslo and used that opportunity to show the participants a real life photoshoot without any tests earlier. It was a blast and the whole event was a great fun for everyone involved.

.

.

.

.
After all these years with the liquids it might looks like it is an easy going process…
But it all comes down to your experience and how well oiled machine your studio Team is. I am fortunate to work with the best people out there that makes the work so much easier!
It is no longer a guessing-game for us. As I have said before, when you throw the milk you don't really know what you will see on the photographs, and is it going to be a useful frame. But if you did that as many times as we did, you can enter the studio with a certain level of confidence. The right amount of liquid, the force, angle of the throw, placement and the actual tool you are using – it all matters and gives me a good idea what shape I will get from every splash.
So if I could share with you a single advice – try to go out and shoot as many times as you possibly can – at some point it will click and that's the moment that changes everything!
.

.

.

.

.

.

.
I am not forgetting those who are here to check out the gear of course…
As you probably know I shoot with Nikon D800 and this time with 50mm lens. Thanks to StudioImport we also shoot with the newest PhaseOne XF system which is an excellent piece of machinery.
Regarding the lights – I use bunch of Einsteins E640 with a various modifiers and the Lastolite panels.
You can see the whole setup on our animation below:
Animated Lighting Diagram:

.

.
Credits:
Concept & Photography:
Jaroslav Wieczorkiewicz
The AurumLight team:
A.Wieczorkiewicz,  A.Swirkowicz, A.Wozniakowski,  M.Ruksztello, A.Ciesielska, R.Ruksztello, L.Lewandowski, & E.Wieczorkiewicz,
Special thanks to:
Per Alver IkonStudio.no, Christian Askim StudioImport, Bartosz Modelski, Artur Dusinski, Studio57.eu
MUA:
Malgorzata Lewczyk, Ida Astero Welle, Linda Olufsen
Models:
Monika Syntycz, Zuzanna Chyba, Klaudia Tolloczko, Dora Marble, Anisæ Shaken, Paulina Guzinska, Mariia Markova
BTSphoto:
A.Wieczorkiewicz, A.Swirkowicz, M.Modelski, A.Dusinski, A.Wozniakowski
Postproduction:
Jaroslav Wieczorkiewicz
.
Last but not least – The movie references!
I am a kid of 80s so those my age or older probably already picked up the right titles…
For the youngsters here is the reference sheet ;-)
Bridget Jones's Diary (2001), The Addams Family (1991), Pulp Fiction (1994), Looney Tunes (1984), American Beauty (1999), Carmen Jones (1954), A Clockwork Orange (1971), Baywatch (1989), Teen Wolf (1985), Who Framed Roger Rabbit (1988), Scream (1996), National Lampoon's Christmas Vacation (1989)
.
I hope you enjoyed this one!
It was a great journey and we are all ready for more now.
Off to the next one!
Thanks for your support.
BTW You can order your copy here>>>
aurumlight.com/calendar2018
Cheers
Jaroslav